Which Cadillacs Have All-Wheel Drive?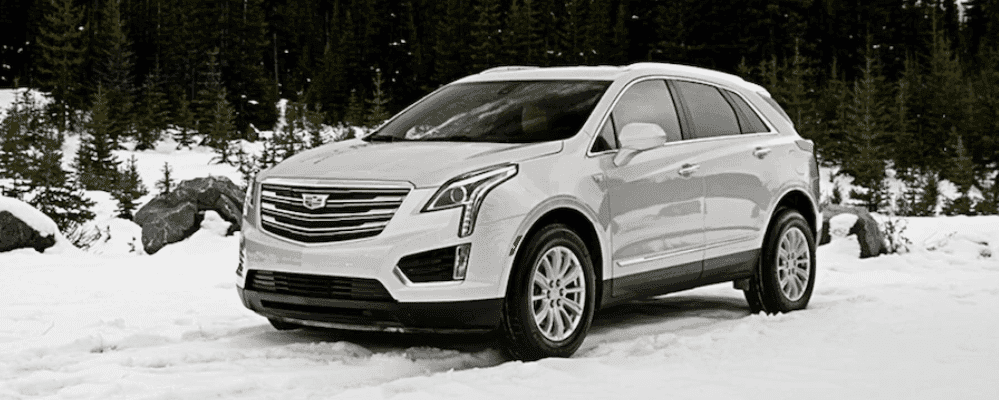 For superior performance on the roads around Decatur, many of our neighbors prefer a vehicle with all-wheel drive. Those who value premium materials, high-end interior features, and unparalleled touring quality consider Cadillac. Here at Sullivan•Parkhill Automotive Inc, we know that you shouldn't have to settle for one or the other. Getting everything you desire in your next new luxury vehicle can be simple. When you visit our dealership near Danville, our team will do whatever it takes to help you find a model that satisfies. For 2019, the Cadillac AWD lineup includes one coupe, three sedans, and three SUVs.
Which Cadillac Cars Have AWD?
If you're searching for a sedan or a coupe with Cadillac all-wheel drive, then you're in luck. The 2019 Cadillac lineup includes four cars with available all-wheel drive.
Cadillac ATS AWD: Drivers who select the Cadillac ATS Coupe will have the option to select all-wheel drive in its Base, Luxury, and Premium trim levels. Those who would like to enjoy the amenities of the Premium Performance trim level will have to go without, however, as this trim is only available with rear-wheel drive.
Cadillac CTS AWD: The Cadillac CTS sedan likewise offers all-wheel drive as an option from the start in its Standard trim, and drivers will also be able to equip the technology in the Luxury and Premium Luxury configurations. Those who opt for its high-end V-Sport or V-Sport will not have the same options.
Cadillac XTS AWD: Unlike the ATS and the CTS, the Cadillac XTS AWD is not available in the baseline configuration. The Luxury, Premium Luxury, and Platinum trim levels all offer AWD as an option, while the high-end V-Sport Platinum offers AWD as a standard feature.
Cadillac CT6 AWD: The CT6 is available in four trim levels: Luxury, Premium Luxury, Sport, and Platinum. All-wheel drive is available as an option on the first two, and it comes standard on the high-end Sport and Platinum models.
Which Cadillac SUVs Have AWD?
Every model in the lineup of Cadillac SUVs and crossovers offers an option for all-wheel drive or four-wheel drive:
Cadillac XT4 AWD: In addition to its exceptional performance specs, the XT4 can be equipped with AWD. Most vehicles with all-wheel drive keep the drivetrain locked in this mode at all times. Not so for the Cadillac XT4, which allows you to deactivate all-wheel drive at any time in order to improve fuel economy on Danville and Urbana roads. All XT4 models can be configured with the technology.
Cadillac XT5 AWD: As with the all-wheel drive system in the XT4, the drivetrain on the XT5 can be shifted simply and easily between different modes. Here, there are three: Tour, All-Wheel Drive, and Sport. The system also stands out thanks to its twin-clutch-powered torque vectoring, which delivers a precise amount of power to each wheel. It's optional on all trims, and standard on the XT5 Platinum.
Cadillac Escalade: Every Cadillac Escalade configuration may be equipped with driver-selectable two-speed transfer case four-wheel drive. With the press of a button, you'll be able to shift between 2WD, 4WD HI, 4WD LOW, and AUTO. As with the other Cadillac SUVs and crossovers, the advanced drivetrain can be equipped on all trims.
Schedule Your Test Drive at Sullivan•Parkhill Automotive Inc
If you're ready to find the all-wheel drive Cadillac that's right for you, start exploring the lineup of new Cadillac models for sale in Champaign today. Once you've found the model that speaks to you, get in touch with Sullivan•Parkhill Automotive Inc to schedule your test drive on the roads of Mattoon or Urbana. It's also a great way to experience the interior of the XT4, XT5, Escalade and more.