New Mercedes-Benz E-Class Coupe Strikes New Level of Luxury and Comfort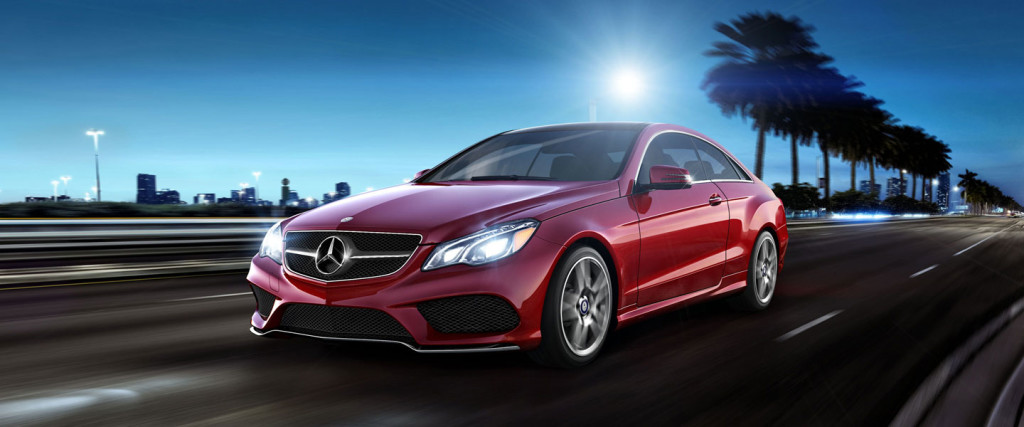 The reveal of the new Mercedes-Benz E-Class Coupe at the Detroit Auto Show unveiled a new level of luxury and comfort, giving drivers even more reasons to celebrate. The all-new architecture, long and lean lines, and updated electronics are just a few of the latest enhancements. If you're someone who appreciates the finer qualities of elite vehicles, look no further than the E-Class Coupe.
New Model Powertrain
The 2018 E-Class Coupe is projected to go on sale in summer 2017 with two models available. Some of the recently announced highlights include a twin-turbocharged 3.0L V6 engine that pounds out 329 hp and 354 lb-ft of torque, along with nine-speed automatic transmission. Drivers can enjoy acceleration from zero to 60 mph in up to 5.2 seconds. A smooth ride is achieved through a lighter MRA modular-rear-wheel-drive platform that provides a low suspension or optional multi-chamber air suspension with adaptive dampers.
Stunning Design
The E-Class Coupe has a longer, leaner size – 4.8 inches – that's also wider and taller. This results in more rear headroom, legroom, and shoulder room. The signature interior styling also shines with gorgeous wood trim options with gloss and natural grain finishing, ambient LED lighting with a huge array of color options, and turbine-styled air vents. A huge 12.3-inch standard center screen can be combined with an optional 12.3-inch instrument panel to create a widescreen view in the cockpit.
Elegant exterior lines are created through the elongated hood, compact deck, and frameless windows. Drivers can also choose a Sport package that comes with athletically-styled front and rear bumpers, side skirts, and the classic AMG-style wheels and steering wheel. All components come together to create a vehicle that's truly unforgettable.
Unique Safety Features
The new Mercedes-Benz E-Class Coupe contains some advanced safety features that truly set it apart from the competition. Drive Pilot keeps your vehicle at a safe distance behind the car in front and controls the steering, braking, and acceleration at the same time. And it can achieve this feat at speeds up to 130 mph! The E-Class Coupe also has forward collision warning with pedestrian detection and emergency braking, plus LED headlamps that can reach into corners with its smart high beams.
The Elite E-Class
It's just a matter of time before you're captivated by the new Mercedes-Benz E-Class Coupe. Sullivan-Parkhill Imports is the only resource you need to learn more about this newly announced masterpiece. Contact us today for the latest information, and we'll let you know when it becomes available for your test drive!